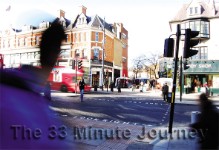 My interests lie with social, political and scientific matters - which I see as intertwined and worth a holistic approach. My work reflects this.
I started detouring form print journalism towards documentary at the Centre for Film and Digital Media in Oxford. Short Filmmaking at the Media School at Bournemouth University followed and in 2009 I was awarded the Masters degree from Royal Holloway University of London.
In 1998 I was collaborating with a few newspapers in Portugal, while working in advertising. By 2001 I had become editor in chief of "Tribuna Douro" (Douro Tribune), the first independent factual magazine ever to be included in the pages of the "Jornal de Notícias", the most sold daily in the country. This was my second magazine project.
My advertising experience started in smaller promo and advertising agencies, then with some free-lance designer and copywriter work, and finally at Tux & Gill, as account manager and e-project manager. This was a great creative challenge where I improved both my pitching and negotiation skills.