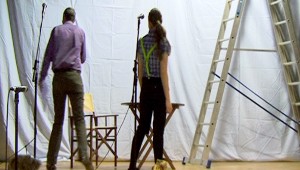 "The Making of" a Pantomime
More than a pantomime, this was an important bonding exercise for the psychology department's staff and students, which amid crisis and delays (many things went wrong up to the dress rehearsal) developed friendships and a shared story to tell.
2008 - Documentary - 15 mins - DV PAL 16 x 9 Anamorphic – Colour
Produced, directed and edited by André Brito, Camera Ops.: David Caneva, Sesino Yhoshu, Zahid Jehangir & Magda Pniewska, Production assistant: Sesino Yhoshu, Assistant director: David Caneva


JACK AND THE BEANSTALK (live recording)
This was my first recording of a live show with multi-camera and live editing (mixer) which allowed no second takes or space for mistakes. To complicate things further, we had four cameras, four monitors and a mixer to cover the show, and only five people - just enough to operate the gear – but no runners.
As producer and co-director I had to ensure that everything was set for us to start recording on target so, to minimise the risk of things going wrong, I got us some walkie-talkies (to keep the editor/director in touch with the cameras), organized the shooting spots, dealt with Health & Safety days before (floor plan, risk assessments, liasing with the organisers) and supervised all the rigging.
I also took care of the catering which, during (and after) 7 hours of intense, non-stop work made a very positive difference for the crew. This was a great experience for us, documentary students, as we were used to single-camera, one-man-band productions.
2008 – Live show recording - 170 mins - DV PAL 16 x 9 Anamorphic – Colour Production manager (video unit): André Brito, Director and live Editor (mixer): David Caneva
Camera Ops.: Sesino Yhoshu, Zahid Jehangir, Magda Pniewska & André Brito Production assistant: Sesino Yhoshu, Assistant director: André Brito, Editors (post) André Brito & David Caneva