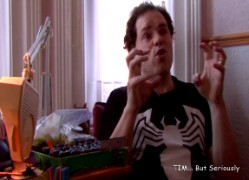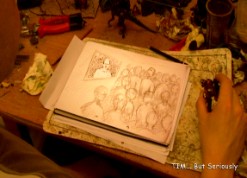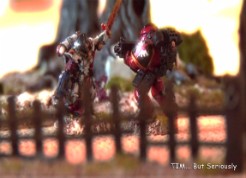 Tim's artistic sprees contrast with the normality that he (like most people) depends on. His disconcerting dry humour can generate laughs and disapproving looks at the same time. His songs can range from philosophical questions like "What if the Ancient Greeks Were Right" to direct insults like "Learn to Effing Drive", and his personality is a riddle.
Tim… But Seriously is an intimate portrait which explores the subject's external and internal worlds, through video and animation. But are we seeing the real Tim or is he fooling us all with his acting abilities?
The portrait was very well received at the 2009 Witney First Contemporary Film Festival, in Oxfordshire, which introduced it as "A humorous tale into the life of Tim". Some people from the audience approached me with some great comments; one of my favourites: "I didn't know whether to laugh or cry!". It goes well with the title...

15 mins - DV PAL - 16 x 9 Anamorphic - Colour, B&W and sepia - With 2D and stop-animation Directed, filmed and edited by André Brito